Subaru Vehicle Modification Reimbursement Program
HELPING TO GIVE YOU THE FREEDOM TO GO ANYWHERE.
DOWNLOAD AND PRINT CLAIM FORM
OVERVIEW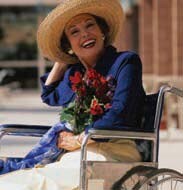 Subaru designs vehicles with active safety in mind that sets
it apart from all the competition. Every Subaru features a
boxer engine and Symmetrical All-Wheel Drive that gives
drivers a strong sense of control, maneuverability and security.
No matter the challenge, Subaru is the vehicle for an
active lifestyle, getting you where you need to go.
In order to provide the benefits of Subaru active safety to
those who most appreciate the freedom of driving, we have
developed the Subaru Mobile-It-Ease™ Program. This program
provides reimbursement assistance up to $500 for
necessary vehicle modifications due to medically recognized
physical disabilities.
An award-winning combination of exhilarating driving performance,
engineering excellence, go-anywhere capability
and uncompromising safety. That's what makes a Subaru,
a Subaru.
PROGRAM QUALIFICATIONS
Applies only to the purchase of new Subaru vehicles

from authorized Subaru retailers in the United States.

The Mobile-It-Ease

™

program covers only necessary

equipment to adapt an eligible Subaru vehicle for persons

with disabilities. The adaptations require a prescription or

letter from a medical doctor. (Subaru factory optional

equipment is not reimbursable under this program.)
Subaru will reimburse up to $500 of vehicle modifications.

Vehicle modifications must be made within six months

of vehicle purchase. A properly completed Claim Form

for reimbursement along with all necessary supporting

documentation (listed below) must be submitted to the

Subaru CDS Department within 180 days of installation

(refer to address on claim form).
The decision on eligibility from Subaru of America, Inc.

is final.
FOR MORE INFORMATION ... DOWNLOAD AND PRINT CLAIM FORM